Review of Commmunication Research (RCR) specializes in publishing LITERATURE REVIEWS and META-ANALYSES for the field of communication. We accept manuscripts and proposals in any area.
High Quality
RCR has an excellent Editorial Board, Associate Editors, and Editor, and invites the best scholars as ad-hoc reviewers.
You can be part of a set of excellent authors who have published with us (W. James Potter--three times--, Timothy Levine, James D. Ivory, Maxwell McCombs, Talia Stroud, James P. Dillard, Lijiang Shen, Kory Floyd, Scott W. Campbell, Robert Abelman, John Sherry, Daniel McDonald, Rajiv Rimal, Douglas McLeod--twice--, Anneke De Graaf, José Sanders, Hans Hoeken, Jake Harwood, and a long etcetera.)
The two review processes (double blind peer review and open peer review) assure the best standards of editorial quality.
Rapid Publication After Acceptance
Once an article has been accepted, it receives a DOI number and it is published online in the next few days. Articles are publised at any time of the year to make them available to readers.
The production process is very fast too.
Active Article Promotion
Articles are actively promoted throughout the world by our editorial staff and social media.
High Impact
The articles we publish are open access. Therefore, anybody in the world can download them. The articles we have published have been downloaded by scholars from the USA, China, Europe, but also from most countries around the globe. Name it, from A to Z. Albania? Yes; Algeria? Yes; Bahrain? Yes; Bangladesh? Yes; (...); Uganda? Yes; Uzbekistan? Yes; Venezuela? Yes; Zambia? Yes; Zimbabwe? Yes.
Scholars will reach your article. For example, McCombs and Stroud's article has been downloaded almost 17,000 times from 2014 to 2020 from the official website only.
Our articles are listed in Scopus, Web of Science, and other databases.
The fact that articles are available online and citable as soon as it is accepted is an additional factor that helps to rise our articles impact factor.
Here we offer you some statistics that can give you an idea of our citation performance:
1. RCR ranks in the top 2% (#159 of 8,000) of the journals in Social Sciences, according to the SNIP indicator by SCOPUS (https://www.scopus.com/sourceid/21100870684). SNIP "helps you make a direct comparison of sources in different subject fields." (https://service.elsevier.com/app/answers/detail/a_id/14884/kw/snip/supporthub/scopus/related/1/)
2. RCR ranks Q1 in communication, according to the CitationScore by Scopus (top 19%).
Powered by
3. RCR ranks in the top 10% according to the SJR statistic by Scimago, also reported in Scopus (SJR (2019)=1.1.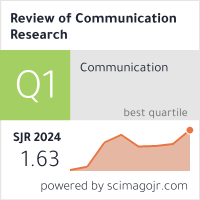 4. RCR articles have an average citation per item of 12 in Web of Science in February 2020 (RCR is included in Web of Science Core Collection.)
5. Check our Google Scholar profile: Google Scholar
Long-Term Availability
We assure the long-term permanence in open-access repositories (e.g., Internet Archive; Academia; Social Science Open Access Repository, SSOAR).
The articles have an assigned DOI number for permanent location.
Authors and scholars are free to save the article in any repository they wish and to distribute the articles as they wish, as long as it is not for commercial use.
Open Access and Copyright Retention
RCR is committed with free accessibility of scientific production to any scholar or student in any country in the world.
Open Access means that anybody from any country in the world can download and read the articles. In this way, we are supporting a fair distribution of academic knowledge. Authors can distribute the articles as they wish, as long as there is no commercial benefit.
The authors keep the copyright.
Testimonials
Some sentences that authors and reviewers have written to our editors. Nevertheless, the work of the editors would not be possible without the extremely talented work of the members of our editorial board, ad-hoc reviewers, and editorial staff. Thank you!
"You are by far the best editor I have ever had the privilege to work with! Thank you so much."
"Wow, I am humbled by your keen eye for errors and your clear explanations of grammar and mechanics. I agree with all of your comments."
"Thank you so much! You are one of the most dedicated editors I've ever worked with. It's my honor to contribute to RCR, and I am looking forward to seeing the piece out."
"Wow, I honestly salute the way in which you engage with the authors! It's a very respectful and motivating tone! The feedback is massive, but at the same time, it's very helpful and you all really invested time in helping them to improve the manuscript."
"I can not thank you enough for your insightful guidance, the manuscript would not be where it is at now without your invaluable advice," and "Many thanks again to your invaluable guidance, for which I am immensely grateful."
"I continue to be enormously impressed with you as an editor. You do it all well, even down to the smallest of line edits. Thank you so much for all the quality you added to our work."
"I'm impressed with how quickly your journal moves from acceptance to publication."
"In sum, this experience has led me to a basic conclusion: You are doing a great job here. You are taking the time to provide valuable and direct feedback to authors, and you are interpreting (and improving) rather than merely passing along reviewer comments. (…) Thank you for all of your work on the journal and for the discipline."
"This is by far the nicest rejection, probably ever in the history of rejections (…) I am impressed by this journal and its efforts related to encouraging scholars to conceptually map and evaluate the state of literature. Thank you for your leadership. This sort of journal is necessary as the number of journals has proliferated. I will consider this journal following the completion of several other manuscripts I am planning (…) Thank you for your timely response so that I can move forward elsewhere with this piece."
"Thank you so much for the excellent editorship of this manuscript and the journal. This was far and away the most positive experience I have had in the process of publication, and you deserve much commendation for your excellent work."
Reasonable Production Charges
RCR needs to pay collaborators for their work in the publication process, web space, technical maintenance, article production, doi registration, etc. Therefore, RCR has started to charge for production to keep all its contento open access. The processing charge is currently 400 USD (for scholars within the European zone: 350 EU + 21% VAT). The production charge is payable upon acceptance of the manuscript for publication. Check below if you are eligible for a discount:
1.- Members of the Editorial Board get a 50% discount for the first published article and 100% for the second (members previous to 2021 get a 100% discount from the first article)
2.- Ad-hoc reviewers get a 25% discount for the first published article and 50% for the second.
3.- Open peer reviewers get a 10% discount (not accumulative) if the review is considered useful for the improvement of the paper by the editor.