Articles published in RCR have an high impact on the field. We present some data that may give you an overall idea of our citation performance:
1. RCR ranks in the top 2% (#159 of 8,000) of the journals in Social Sciences, according to the SNIP indicator by SCOPUS (https://www.scopus.com/sourceid/21100870684). SNIP "helps you make a direct comparison of sources in different subject fields." (https://service.elsevier.com/app/answers/detail/a_id/14884/kw/snip/supporthub/scopus/related/1/)
2. RCR ranks Q1 in communication, according to the CitationScore by Scopus (top 19%).
Powered by
3. RCR ranks in the top 10% according to the SJR statistic by Scimago, also reported in Scopus (SJR (2019)=1.1.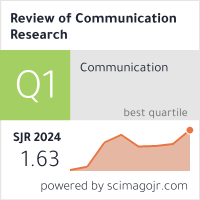 4. RCR articles have an average citation per item of 12 in Web of Science in February 2020 (RCR is included in Web of Science Core Collection.)
5. Check our Google Scholar profile: Google Scholar
Do you have any doubts or questions about these statistics? Please, ask the details to the editor. Write to editor[at]rcommunicationr.org